The clean cloth has good water absorption and cleaning efficiency, and the surface is soft and does not rub off fibers, so it is widely used in semiconductors, chips, optoelectronic displays, medical equipment, microelectronics and other fields.
How to use the dust-free cloth to live up to its excellent performance?
High-end dust-free cloths must be unpacked in a clean environment. When unpacking, you need to wear dust-free gloves and masks, and clean the packaging before unpacking, especially the opening. Keep it clean and tidy.
The dust-free cloth can be wiped directly, or it can be dipped in solvent. When wiping, wrap the four sides of the dust-free cloth inside, and try not to wipe the surface of the item with the edge of the dust-free cloth.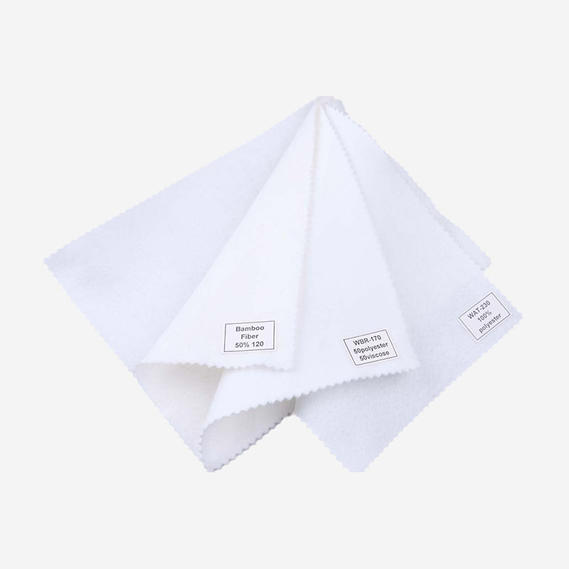 When using, the dust-free cloth must be kept flat and cannot be rubbed. When moving and wiping, try to make the clean cloth and the wiping surface in full contact, and make sure to wipe in the same direction, and do not wipe back and forth repeatedly.
In addition, the clean cloth should be cleaned with warm water and neutral detergent when cleaning. Do not use bleach or softener. The softener will leave a film on the surface of the microfiber, which will seriously affect the The wiping effect of the dust-free cloth; the cleaned dust-free cloth should be dried in the air or at medium and low temperature, and ironing and exposure are prohibited.
Set up in 2003,
Hangzhou Gang Yu Health Products CO., LTD.
 is a professional manufacturer of spunlace nonwoven fabrics,wood pulp nonwoven, PP spunlace, and the related finished products, varying from household care, hygiene to medical care products. We introduced three continuous spunlace lines with an annual output of 8000 tons of spunlace nonwoven fabric. As 
China Wholesale Non Woven Cleaning Wipes Manufacturers
 and 
disposable Nonwoven Wipes Factory
, We own a processing workshop, more than 20 folding machines, ten perforated roll machines, one wet wipes machine, and six mask machines, specialized in various disposable planar masks, filtering half mask, duster cloth, disposable wipes, and so on. And have gained the BSCI and ISO9001:2000 quality management system. All of our products are exported to Australia, Japan, the USA, Germany, Russia, etc. countries. Warmly welcome all friends to our company with the business cooperation, and built a brighter future together.