People may never realize spunlace nonwovens, but they use many products, such as dry erase materials. In this blog, we will present the complete details of our spunlace nonwovens. Spunlace, also known as hydroentanglement, is a bonding process for wet and dry fiber webs, which is formed by carding, air lap or wet accumulation, and the bonded fabric is a non-woven fabric. It uses a fine, high-pressure jet that penetrates the belt, hitting the belt or yarn, like in a papermaking belt, and bouncing back, causing the fibers to become entangled. Some other raw materials, such as cotton, tencel, chitin.
nonwoven wipes
These fibers are more natural, derived from plants or animals, and more expensive. A produced spunlace line is composed of several machine parts, such as mixers, cards, water jets, etc. The investment in spunlace is huge. From a technical point of view, the yield and quality of imported fabrics are better than domestic fabrics. At present, a large number of non-woven fabric manufacturers in the United States, Europe, China, Turkey, Vietnam, India, Indonesia and other countries also have threading machines from previous years. But China is expected to be the most complete type, with the largest annual exports. Furthermore, producing spunlace fabrics is a big investment, as mentioned earlier, the threads are long and cover a large area. Spunlace nonwovens are an important type of nonwovens.
kitchen wipes
The spunlace process is a nonwoven fabric manufacturing system that uses water jets to entangle fibers, thereby ensuring the integrity of the fabric. Wood pulp spunlace fabrics are very popular now and can replace some common spunlace fabrics, there are 2 types of such fabrics. Wood pulp polyester non-woven fabric and wood pulp polypropylene non-woven fabric have hydroentanglement depending on the grinder. Parallel overlapping spunlace and cross spunlace. What is the difference between parallel lap spunlace and cross lap spunlace? Their main difference is the resistance of the fabric. Take 40g/m² 100% polyester spunlace fabric as an example. Application of nonwoven spunlace Some customers told us that they received spunlace bristles of poor quality.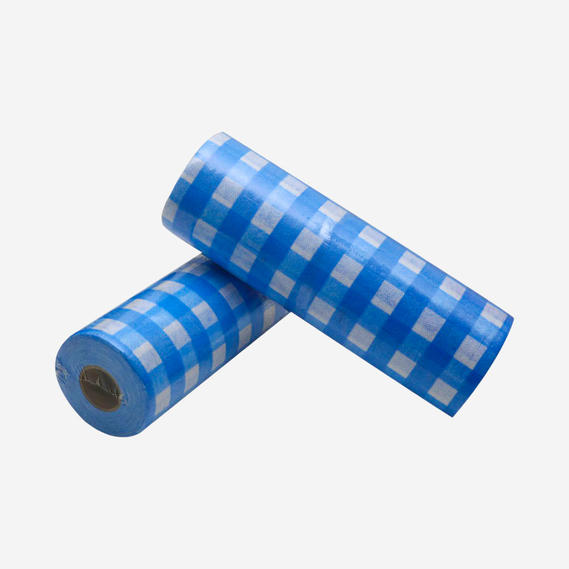 So how do you check that you are receiving high quality spunlace cloth? It's easy to do lab tests or 3rd party money. But here we show you a very simple way to test what you are doing yourself. The most important thing about a spunlace fabric is its composition, as viscose fibers are generally more expensive than polyester fibers. Viscose gives spunlace better absorbency and superior wiping quality. The faster polyester burns, the harder it is to destroy. Black indurations appear after burns. But 100% viscose is only gray after engraving, no hardening. So it burns faster and harder, and the fabric contains more polyester. We are a professional spunlace non-woven manufacturer, we produce various spunlace fabrics to meet customer needs.