If conditions permit, it is recommended to add a few "high-end goods" to the kitchen, which is convenient and easy to use, and can be used by every family. The kitchen is the soul of a family. There is an old saying, "To grab a man's heart, you must first grab a man's stomach". The kitchen carries the family's three meals a day, which is important and warm.
However, kitchen labor is not an easy task. Oil fumes, bottles and cans, cooking skills, etc. will affect our mood and the quality of dishes. The kitchen is a small functional area in a house, but there are many things. If the storage is not well organized, it is not only messy, but also easy to hide dirt and dirt. It is even more troublesome to clean it every once in a while. The editor suggests that if the money is not bad, it is recommended to add a few high-end goods to the kitchen to improve the quality of life, and also to enhance the image of the hostess.
Kitchen wipes or lazy rags
This is really necessary. Many people like to use ordinary rags, but it doesn't matter if they can't be wiped clean. The key is that the tools themselves have to be cleaned twice, otherwise they have to be thrown away. But who has so many ordinary rags at home? So at this time, the lazy rag came into being. It not only has a long roll that can be torn and used, but also has the characteristics of absorbing oil and not sticking to oil. It can be used to wipe wall tiles, consoles, hoods, stoves, etc. convenient.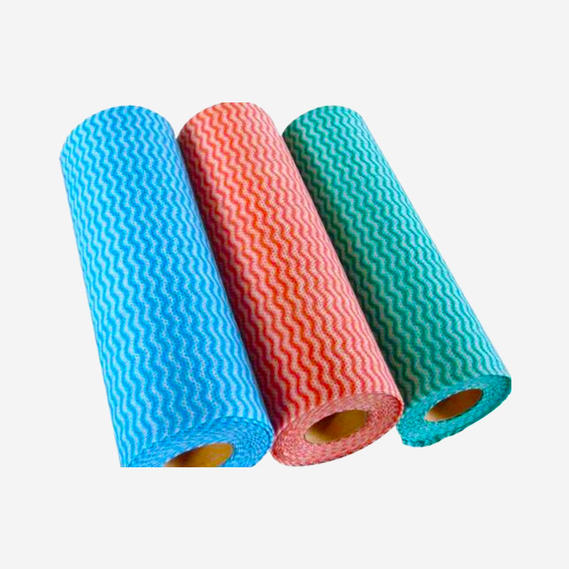 What needs to be added is that the lazy rag uses natural fibers extracted from plant fibers as a soft non-woven fabric, which is not only flexible, but also environmentally friendly and pollution-free. It can be regarded as one of the necessary cleaning tools for lazy people to improve housework efficiency . (Not only the cleaning effect is strong, but also the oil stains on the rag will be washed away with water)
Correspondingly, there are kitchen cleaning paper towels, which also use plant fibers extracted from raw wood fibers as a soft non-woven fabric, which is not only mild and does not hurt hands, environmentally friendly and degradable, but also adds APG factor, so it can be achieved While absorbing and locking oil, it can quickly decompose grease, and it can be thrown away after use. Combined with a lazy rag, it is really no problem to deal with general kitchen oil stains.
Set up in 2003,
Hangzhou Gang Yu Health Products CO., LTD.
 is a professional manufacturer of spunlace nonwoven fabrics,wood pulp nonwoven, PP spunlace, and the related finished products, varying from household care, hygiene to medical care products. We introduced three continuous spunlace lines with an annual output of 8000 tons of spunlace nonwoven fabric. As 
China Wholesale Non Woven Cleaning Wipes Manufacturers
 and 
disposable Nonwoven Wipes Factory
, We own a processing workshop, more than 20 folding machines, ten perforated roll machines, one wet wipes machine, and six mask machines, specialized in various disposable planar masks, filtering half mask, duster cloth, disposable wipes, and so on. And have gained the BSCI and ISO9001:2000 quality management system. All of our products are exported to Australia, Japan, the USA, Germany, Russia, etc. countries. Warmly welcome all friends to our company with the business cooperation, and built a brighter future together.